I learned a long time ago not to go to Vegas for more than three days… I learned last year that 36 hours is just about the perfect amount of time there. While most of the trips I've taken in the past tend to be guys trips, this one was a bit different: it was my first couples trip to Sin City.
Getting There
I've espoused the many benefits of the Southwest Companion Pass, here I am putting it into practice. I live about five minutes from Washington Reagan National, but I'll drive a bit further to prevent a layover (and for a better price). Southwest runs a direct flight from BWI to Las Vegas several times per day, so I booked my flight using 21,000 Rapid Rewards miles and added Julie onto the itinerary for free.
One of the best things about Southwest is that if the cost of a flight goes down, you can rebook for free. I kept an eye on the Sunday flight (which was the more expensive of the two) and sure enough it dropped 6,000 miles. I rebooked and had the miles redeposited back into my account. 15,000 Southwest miles for two roundtrip tickets to Vegas.
Staying There
I've been to Vegas four other times and stayed somewhere different each time1. Part of this is that I like to get the experience of staying at the different famous Vegas hotels. Mainly though, I look for two things: (1) the cheapest price (2) on the strip. Some people will say to stay the cheapest place you possibly can and then take a cab to the strip. This will definitely cost you less money. But for me, there's something about being right there in the thick of it that makes it worth the extra cost.
For this trip, I booked us into the Monte Carlo. The absolute best way to find deals is to sign up for the email list of all the hotels and to be flexible with when you want to go. I find the former fairly annoying, so I focus on being flexible and get emailed weekly updates from this Flyertalk thread, which discusses deals found on Vegas hotels.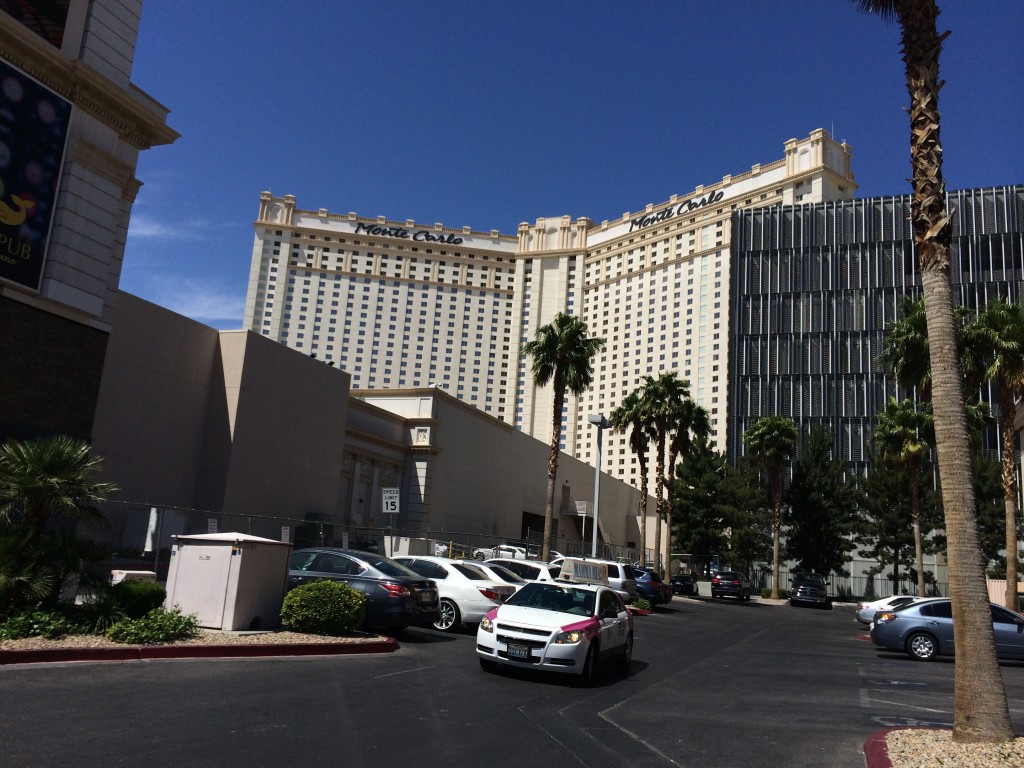 My MLife Gold status got us upgraded into a Diamond Suite. While the room itself was older, the amenities and size couldn't be beat. Diamond Suites included separate living and bedroom areas, a kitchen, an extra half bath in the foyer, and a two person jacuzzi. It's not the nicest hotel room I've ever stayed in, but its sheer size made it worth it.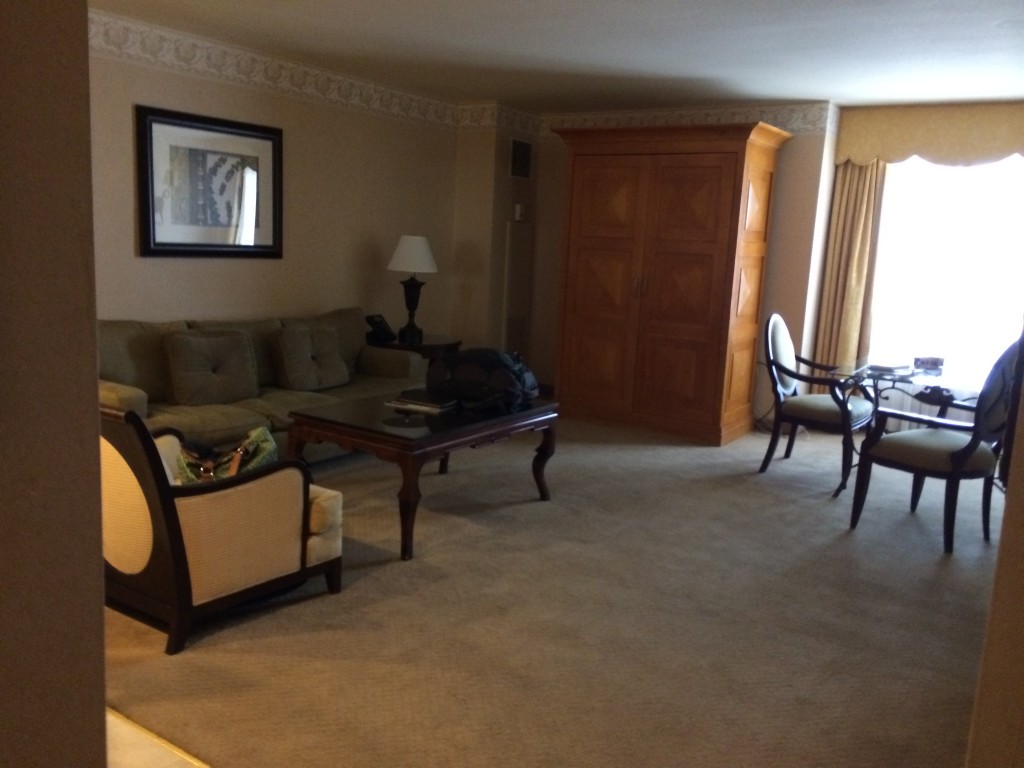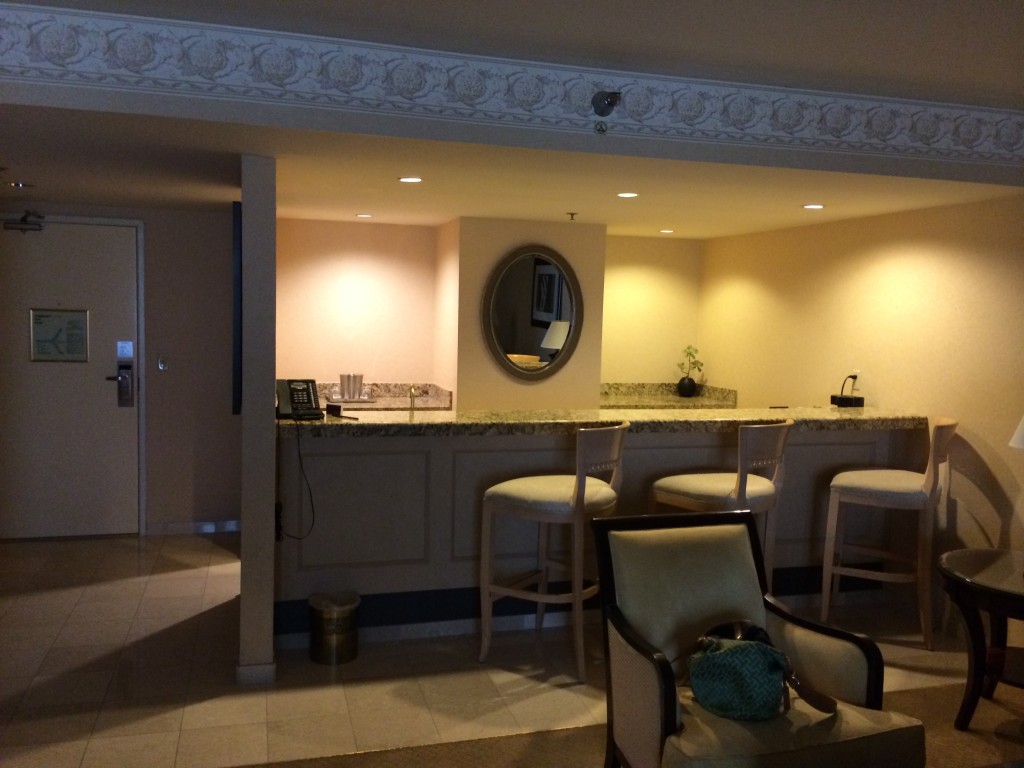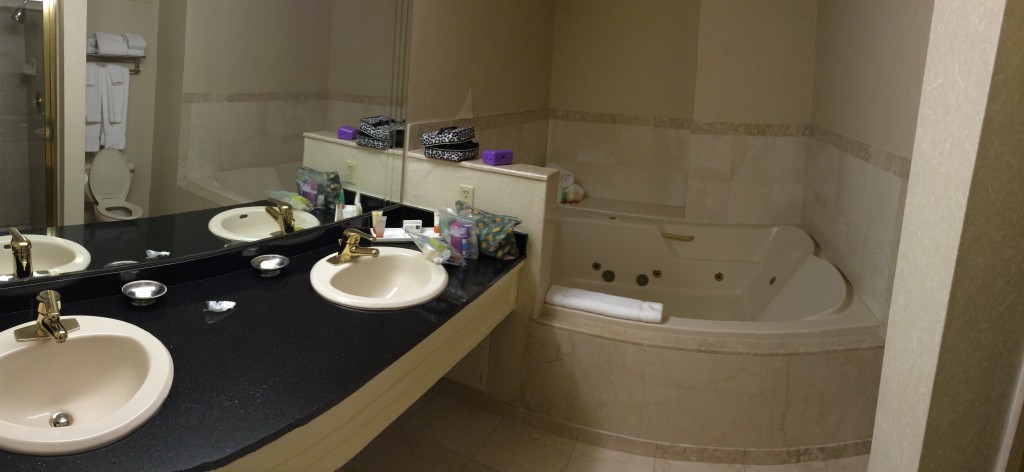 Being There
My first trip to Vegas was when I was 14 years old. In the 90s, the city tried to rebrand as family friendly and was actually fairly successful at it. Nowadays you see much, much less of that. It can be good for a solo trip, guys trip, a girls trip, a couples trip, and even a family trip, but don't be fooled: it's called Sin City for a reason.
If you've never been to Vegas, take some time to just wander up and down the strip. Its not called Disney World for adults for nothing; everywhere you look is a decadent veneer. Stay long enough and the cracks in that veneer become evident; stay just the right amount of time and there's no place more enjoyable.
Gambling
I like to gamble, but I get my thrills more from winning and losing, not from betting big money. Because of that I like to stick to $5–10 tables. Depending on where you're staying and what you like to play that shouldn't be too much of a problem.
To a point (roughly around the Mirage), the further north you get on the strip, the more expensive things become. It's fun to stay up there, but you're in the wrong place if you're looking for cheap tables. With the exception of Saturday night, we were able to find $5 blackjack tables at the Monte Carlo. The only time we found a $5 craps table was early on Sunday morning. If you're looking for cheaper, head further south on the strip or catch a cab downtown.
Eating
This trip was a bit uncharacteristic; usually I eat almost as much as I gamble. I continued my Saturday morning tradition of the brunch buffet at the Bellagio, but didn't get a chance to eat anywhere major besides that. Brunch at the Bellagio is unparalleled, though. It's hundreds and hundreds of square feet of almost any kind of breakfast and lunch food imaginable. It's pricy at $35 per person, but the quality of food more than makes up for it.

If you book directly through the hotel, you can often get food credit on site. This time the Monte Carlo offered us $75 credit at the Pub. We weren't too hungry for dinner after our huge brunch at the Bellagio, so we ran into the Pub for a quick beer. 2 We ordered two flights from their selection of local brews and American crafts. The beer selection is spectacular, but the food is pretty much your typical bar fare. Unless you're hungry, save your money for trying the beers you've never had before.
Shows
I'm middle-of-the-road when it comes to shows in Vegas. I've been with people who go to one every night and I've been with others who'd rather blow the $120 at the tables. I take a much similar tact to how I see shows at home: if it's a good enough deal, I'll see anything; but if it's expensive, I've got to really want to see it.
The whole point of this trip was a birthday present for Julie to see Britney Spears. Much like all good teenage boys of the 90s, I had a non-musical interest in Britney that somehow led to me knowing way more of her songs than I realized. Tickets were expensive (we went for the cheapest at $90 per ticket), but the theater was small enough (seated around 4500) to where it didn't really matter how far back you were.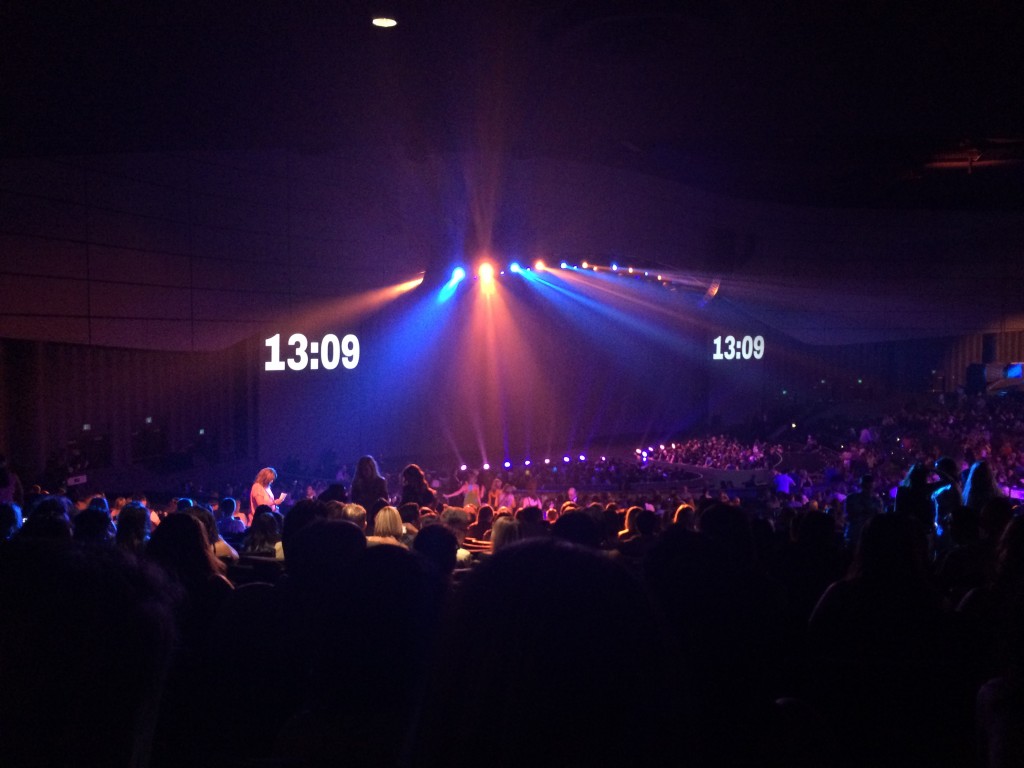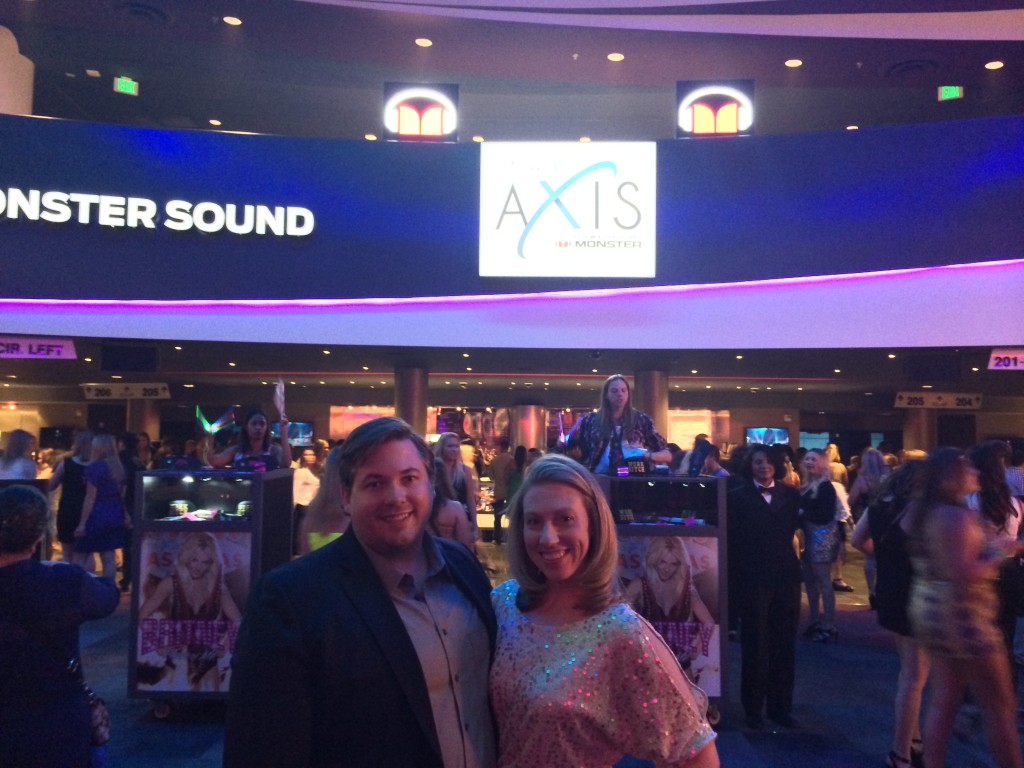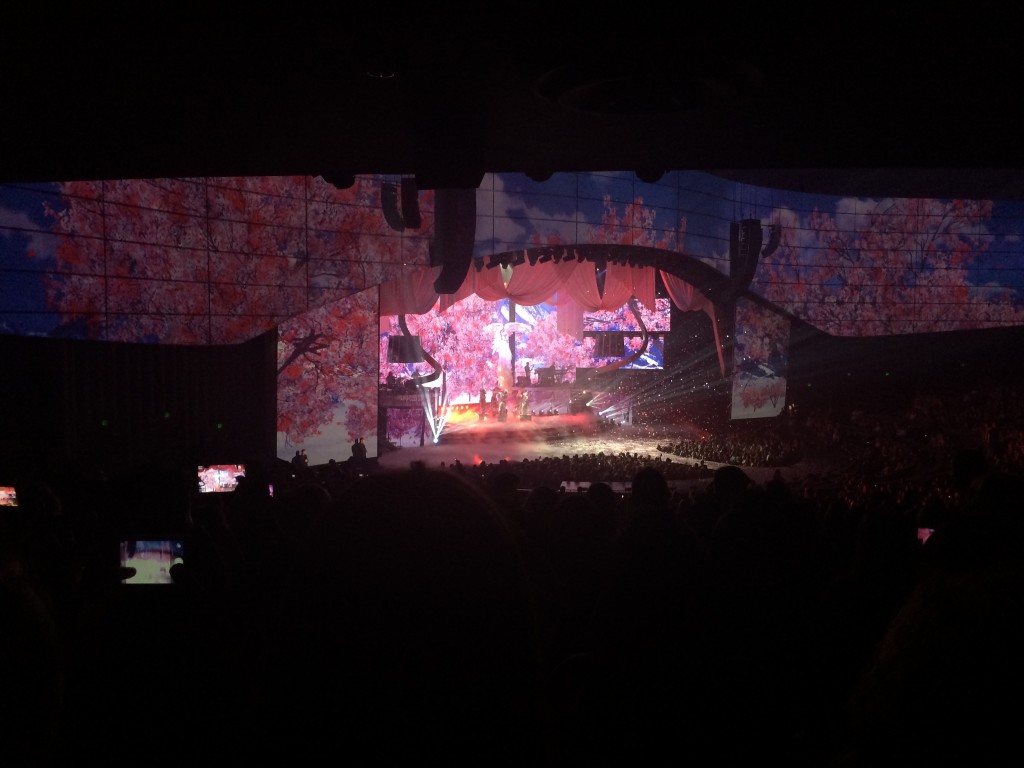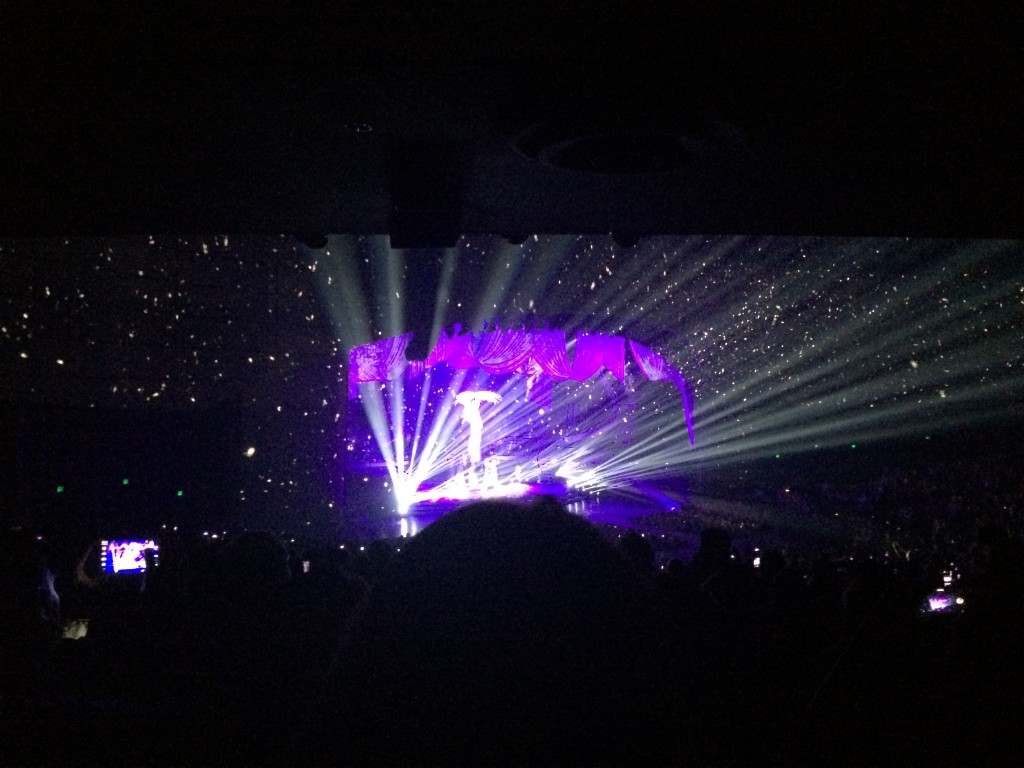 The show itself was fairly enjoyable, even for a non-fan. The production values clearly indicate that it's a Vegas show, but depending on your tolerance for everything Britney Spears, your money may be better spent elsewhere.
The Good, the Bad, and the Ugly
Good: You didn't think you'd get out of this article without a couple of gambling stories, did you? Flight gets in late, we get to the hotel around midnight. I sit down at a blackjack table and play seven hands. Four double downs, two blackjacks and one loss put me up $105. I quickly closed up shop and went to bed.
Good: You're in Vegas, you're going to pay a lot for food. Go eat brunch at the Bellagio. It's absolutely worth it. It's a Vegas tradition for me.
Good: While the food wasn't great, the beer selection was top notch at the Pub in the Monte Carlo. If you're tired of gambling and want to sit somewhere cool and have a beer, go here.
Bad: The Monte Carlo is right on the cusp of being one of the great hotels or merely one of the OK ones. The rooms have great amenities, but they're a bit run down compared to some of the other places you can stay. Still worth it, but could be better.
Ugly: One last gambling story. I was teaching Julie how to play craps before we left3, but we couldn't find a $5 table to play at until early Sunday morning. We were only two of three people at the table and the other guy was playing the Don't Pass Line (come on, dude). We very quickly proceeded to make him a lot of money.
Tip of the Trip
Hyatt and MLife are partners, so you can do a status match between the two. If you've got Hyatt Platinum or Diamond, it will translate to MLife Gold, which will be good enough to get you a room upgrade. Also, make sure to add your Hyatt and Southwest numbers at checkin; you can also get points in those two programs.
Come on, just tell me what to do already! (TL;DR)
See this:
Stay here:
Eat this:
Bellagio Brunch Buffet
The Pub (only for beers)
I've previously stayed at the MGM Grand, the Mirage, the Bellagio, and the Las Vegas Hotel (formerly the Las Vegas Hilton). ↩
This violates my first rule of Vegas: never pay for a drink, but since it was paid for with hotel credit, I deemed it allowable. ↩
As you craps players can attest, there's nothing more fun in Vegas than a craps table that's hot. ↩