Mommy Points on Barclay adding Chip+PIN to the Arrival card:
Its finally happened – a good miles and points credit card will now come with a chip and pin option! This makes traveling internationally much easier since that is the standard in many countries, and sometimes even required at unmanned machines in train stations or similar…Current Barclaycard Arrival World MasterCard card members will receive the new Barclaycard Arrival Plus card, with chip technology, when their current card expires. They can also request the newly enhanced card right now…
This is a big deal because it's the first (major) U.S. Credit Card to offer Chip+PIN. You can apply for it here. That's an affiliate link for us, so we'll receive compensation if you apply through that link. (So apply through that link)1
For those who don't know, there are several countries (mainly in Europe) that don't swipe credit cards. Instead, you put the card into a slot on a small keypad and type in your PIN to validate the transaction (instead of signing). Most places I've been allow Chip+Signature2, but every now and then I'll see some place (usually an automated kiosk) that requires Chip+PIN.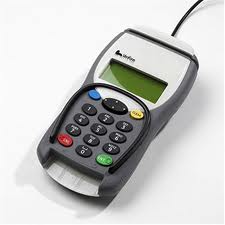 Because I'm heading to Rome next weekend, I had Barclay rush the card to me. I'll report back any problems, but one thing I found out while activating is that the card needs to be used somewhere other than an automated kiosk before the PIN can be used at an automated kiosk. This shouldn't be too big of a deal; grab a sandwich before buying your train ticket.
Let's hope that more banks add the Chip+PIN to their cards. But for now, if you're traveling to Europe, you really should have the Barclaycard Arrival.
You'll get 40,000 points after meeting a minimum of spend in three months. That's good for $400 of travel. ↩
Which means you put the card in the slot, but instead of typing a PIN, you sign the receipt as you normally do in the U.S. ↩