Look, being in a relationship can be great. Personally I like that someone will cook me a nice warm meal every now and then. The eternal-companion thing also has it perks.
One thing that's not so great about being in a relationship? Double the cost of airfare. Sure you now have someone who can also get credit card sign-up bonuses, but after years of traveling by myself (or traveling with someone I didn't need to account for), it's still quite the sticker shock to find a great price on a ticket to Rome and then have to pay double for it.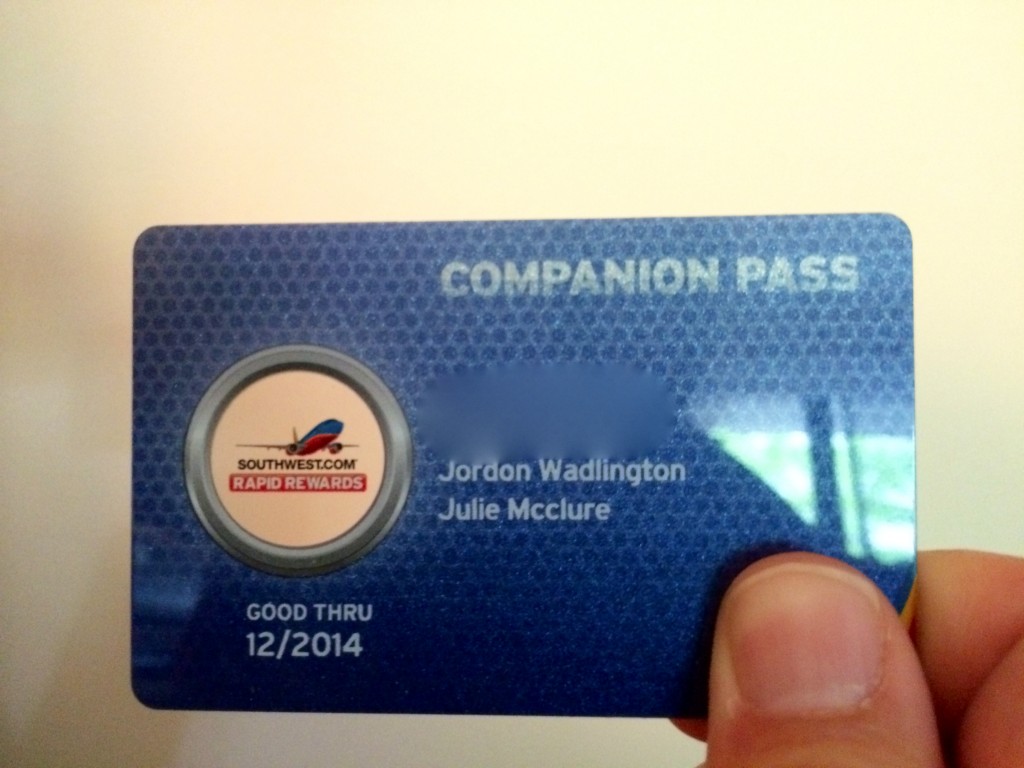 Too often when earning points I thought of myself as in a silo; that I could accrue in one manner as to maximize travel for myself. But as Julie and I have begun to travel more together, I've realized that I need to find a way that makes sense for us to travel together. I've never been a huge fan of traveling by myself, but this is the first time where I've actively had to look for a way for someone else to come along.
So as the majority of my travel shifts from solo to couple, I began to look for ways to maximize trips for two people. One of the most obvious ways is to just earn more points. That works, but feels wasteful; I know that's my old solo-trip mindset rearing it's ugly head, but if I earn more points, I want to use those points for more trips, not for the same trip. Another way is to have her pay for her trip with her own points she's earned through credit card sign-up bonuses. That also works, but sometimes the logistics of trying to book two separate tickets on the same itinerary is a nightmare.
Luckily, Southwest has already solved this problem for us. Like most airlines, Southwest offers a companion pass; anyone who flies with the person who booked the flight, flies for free. Unlike most airlines, Southwest is exceedingly generous with it: it's good until the end of the next year after you earn it1 and your companion flies with you for free2, whether you booked the trip with cash or with points. That's a spectacular deal.
Earning it can seem a bit daunting, but as always, there are pretty good strategies for doing so. To secure the Southwest Companion Pass you need to accrue 110,000 Rapid Reward miles or fly 100 flights in a calendar year. Let's forget flying; that's an insane pace. Instead, let's focus on earning the miles.
There's lots of ways to earn miles quickly, but by far the best is through credit card sign up bonuses. Fortunately, Southwest has four credit cards. What also works in our favor is that while the normal sign up bonus for each card is 25,000 miles, every few months Southwest ups those bonuses to 50,000 miles. That means if you apply for two of those four cards, you can get 104,000 miles3 towards the companion pass with very little work. Earning those last 6,000 miles is probably the most difficult part. For those of you who can swing it, just put another $6,000 on one of the credit cards. If you've got some Marriott or Hyatt points, you can also transfer from there. Or you could just do it the old-fashioned way and fly those 6,000 miles.
After a year of having the Southwest Companion Pass, I can honestly say it's one of the best ways to travel with a significant other or even just a friend. It costs the exact same amount of points or cash as if you were traveling by yourself, plus you get the added benefit of being able to book everything on one itinerary. It solves the bulk of my problems with couples travel in two credit card applications.
I'm changing the way I think about trips. While there will always be the Rome trips that I'll have to pay double the miles for us to get to, I'm a lucky guy to have someone who likes to travel and wants to come with me to all the crazy places I want to go. I'm also fortunate that Southwest can pick up the tab for all of those other places.
If you earn it May 2014, it's good until December 2015. If you earn it in January 2014, it's good until December 2015. Spoiler: earn it as early in the year as you possibly can. ↩
Actually, you've got to pay the September 11 fee, which is $5 roundtrip ↩
50,000 for each sign up bonus, plus the 2,000 points you'll receive for having to meet the $2,000 minimum spend on each card ↩