Updated with comment from Southwest to Mommy Points
You've probably seen it circulating today: Southwest is changing the number of Rapid Rewards points needed to redeem for certain flights.While there's plenty that we don't know, there's some things that we do.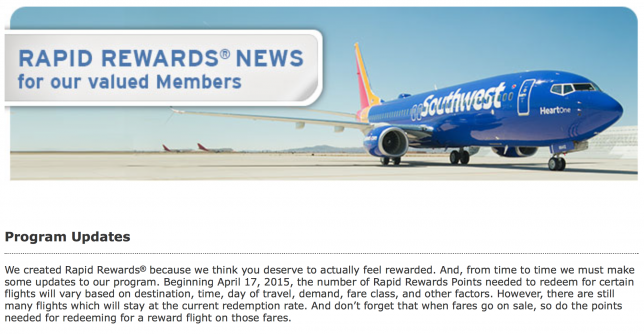 Redemptions won't be affected until April 17
Southwest's current calendar is open through August 7 (Update: it's now open through October 30) and by the time April 17 rolls around, it will have been extended out further. If you can book now…book now. Southwest doesn't charge any change or cancellation fees. That means if you think you may take a flight sometimes during the year, book it now and cancel it later if need be. And if the points needed to book your flight actually goes down after April 17, rebook for the lower price.
We don't know how Southwest will set the amount of points it takes to redeem for a flight
Southwest has simply said:
the number of Rapid Rewards Points needed to redeem for certain flights will vary based on destination, time, day of travel, demand, fare class, and other factors. However, there are still many flights which will stay at the current redemption rate. And don't forget that when fares go on sale, so do the points needed for redeeming for a reward flight on those fares.
There's not much we can glean from this statement besides the fact that before we knew how Southwest priced the points it takes for redemption and afterwards we don't. This leaves open the possibility that some less popular routes could see a points reduction in addition to the points increase for the more popular routes.
Update : Mommy Points received a statement from a Southwest Rep:
It would be impossible to summarize how the displayed prices to consumers vary between BUR and LAX (or between any two airports for that matter), because each flight's inventory is individually managed, and a fare filed in BUR may not be the same fare filed in LAX (and vice versa). Further, both parameters are subject to frequent changes (inventory can change instantly in real time; filed fares can change up to 4 times per day).

In addition, our service offering (number of flights, nonstop routes, connect opportunities) between the two airports may not be comparable. In the same way that it's often more expensive to book a flight to New York vs. Albuquerque sometimes point redemption will vary based on what I referenced in the statement: destination, time of day, demand, fare class, and other factors. But I can't reemphasize enough that in many cases, the current redemption rate will remain the same.
That doesn't tell us much more than we already know and when reps use terms like "impossible to summarize", it doesn't inspire much faith.
The points it takes to redeem for a flight are still somehwat tied to the price
In the past, the amount of points it takes to redeem for a Southwest flight was directly tied to the price of the flight. While most have assumed this move means that Southwest will move away from this, there's actually an indication otherwise. While Southwest's note says that the points needed to redeem for a flight will vary based on certain factors, it also specifically says that when fares go on sale, so will the amount of points needed to redeem.
We don't know if any of Southwest's other unique benefits are affected
Southwest's note implies that unlimited reward seats, no blackout dates, and points that don't expire will remain, but there's no guarantee of this anywhere in the note. In addition, there's no mention of changes to the lack of cancellation fees or the companion pass. While it's probably safe to assume that these benefits will remain, don't be surprised if something else changes in the future.
Why is Southwest doing this?
The easy answer is because they can and that pricing some awards higher will take more points out of circulation and will presumably lead to more flights being booked with cold hard cash.
But Frequent Miler had an interesting hypothesis:
Most airlines partner with other airlines and allow customers to use points/miles to book partner awards. They also let people use the partners' miles to book flights with them. Southwest doesn't currently offer any such partnerships. If they did, though, they may want/need more flexibility in award pricing to handle the partnership. For one, the partner would need a way of seeing when award inventory is available. Currently, all seats for sale are available for awards. I doubt Southwest would be that generous with their partners. Second, Southwest would have no control over their partner's revenue prices and would likely need a way to price awards that isn't fixed by the ticket price. Is Southwest looking to hookup with other airlines?
Should this news make me rethink my earning strategies for Rapid Rewards Points?
Probably not. Most (if not all) airlines are devaluing their points. Switching solely based on news like this will lead to you to doing a lot of earning strategy rethinking. If you have a solid plan on how to use Rapid Rewards Points for your travel, that plan will probably remain mostly solid. In addition, since it looks like benefits like the companion pass will be remaining, if you're flying as a couple, it's hard to beat paying half price for flights.